MOTOVARIO, PARTHA PRATIM SEN
MOTOVARIO The Heart of Motion since eternity
Vinisha Joshi
2019-03-27
0
With the ability and the pace to be in the surviving belt of providing engineering solutions in the transmission components sector, Motovario has shown that there is no slow but there is always a steady to win the race. Installing a gear motor in screens to move the screen forward or backwards placed on the cricket field at Bellerive Cricket pitch in Tasmania in 2013, or giving the solution of bulk material handling conveyor belts to Shakti Pack Private Limited, India applied to rotating brushes, Motovario group has come a long way in the field of proving the tailor-made custom solution provider of gear motors.
With the growing demand, Motovario Gears Solutions India Pvt Ltd was established during 2011 as a subsidiary to Motovario SpA based at Kolkata. In an exclusive interview with Machine Maker, Mr. Partha Pratim Sen, Managing Director of Motovario India shared, their incredible journey and future plans, excerpts.
Journey of success
Starting from its genesis in 1965 in the town of Formigine, at the heart of the Modena industrial district when it was set up, Motovario has established & grown to become one of the most important Italian and European manufacturers of gear units for industrial and civil applications. Since 1965 it has provided technologically advanced solutions in the transmission components field for industrial and civil applications worldwide. Synonymous with innovation, quality, and service, as one of the World's leading manufacturers of industrial gears and electric motors, it is well placed to serve its customers.
Motovario's range of geared motors includes (started in 1999), the H Series Helical gear reducers, B Series Helical Bevel gear reducers and S Series shaft mounted gear reducers. Each has been designed to meet varying working conditions and all offer high reliability and performance with a 2-year warranty. The technological content of B-Series gear reducers allows for an extraordinary performance/lifespan ratio. These highly versatile gear units are successfully used in a vast number of industrial and civil applications. B-Series units offer excellent value for money and output torque/weight ratio, especially considering that they need very limited servicing. Within an active market like that of India, the Motovario Indian subsidiary continues to acquire new partnerships, successfully offering technological solutions to numerous customers and meeting a wide range of production requirements.
Considering the growing demand during 2011 it came up with a subsidiary in India named Motovario Gear Solutions Pvt Ltd which was converted into an assembling centre eventually during 2012. For the distribution of products and the related technical support service, they count on a network of over 100 dealers, working in close relationship with their subsidiaries and MAC (Motovario Assembly Centres) located worldwide.
The vision of Motovario is to provide technologically advanced solutions in the transmission components field for industrial and civil applications worldwide. Its mission in corporate philosophy aims to promote the company's brand and products at an international level with determination and transparency, while constantly striving to offer innovative solutions for satisfying and anticipating the demands of the market.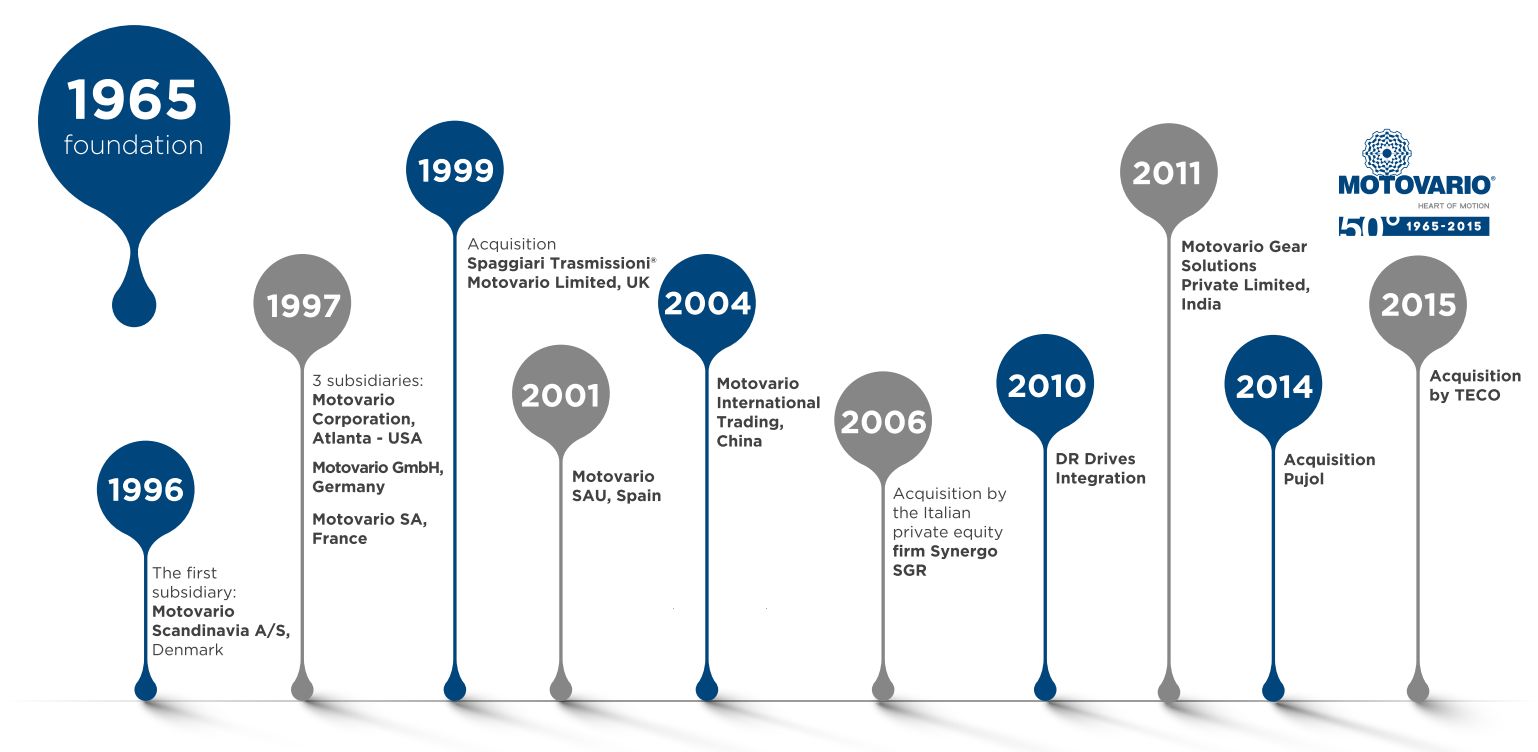 Motovario in India
Motovario has been selling its product in India for a long time as per the OEM requirements through the distribution chain. At that point, the company had pricing issues with currency exchange fluctuations as well as logistics issues of availability. Partha Pratim Sen, Managing Director, Motovario says, "I started listening for their products from 2010 to generate a dealer /distribution chain and have a stronger presence of Motovario Brand in India. With the growing demand, Motovario Gears Solutions India Pvt Ltd was established during 2011 as a subsidiary to Motovario SpA based at Kolkata. In 2012, we were able to convert it into Motovario Assembly Centre (MAC), to penetrate the Indian market with competitive pricing for our products with ex-stock delivery of the helical range."
He further adds, "When we started in 2011 we were able to sell around 940 units worth around 48 Lakhs and now it expanded to 19750 units with a turnover of 15 crores during 2014. The current year target is 35000 units and 35 Cr and to achieve 50 Cr by 2021. We have our sales team across all regions with pan India dealership network."
In a couple of years, Motovario India plans to start a fully fledged manufacturing unit from the proposed component assembling centre. This unit would not be only catering to the Indian market, but the products manufactured here would be exported globally as well.
From assembly plant to a component assembly plant.
The main driving force for converting to a component assembly plant was the price sensitivity of the market where indigenous sourcing would save the import duty costs of standard components, though, the main heart of the drive system will be always manufactured at the parent plant Italy.
The other main reason is the more flexibility of delivery of all ranges when the company only needs assembly time and can maintain the smaller components inventory level to the optimum.
Promotional challenges in India
While promoting the company, Motovario has come across various challenges, such as, Availability which becomes a major challenge when big sizes of Industrial Gearboxes are in demand. Where the other MNC's ventured in India give delivery of 6 weeks for such gearboxes, the company is not sure whether they can fulfill the customer's demand on a/c of delivery. With this, they lose a chance to sell high-value gearboxes and are forced to sell only small value products which are available with us. Due to this limitation, many segments remain untouched where ever bigger gearboxes are sold, Not so strong pharma segment clientele which makes it difficult to penetrate into the segment and pricing.
Italy and Indian manufacturing
Mr. Sen quotes, "India is good in having manufacturing capabilities and is a growing domestic consumer market. By investing in India's planned growth, Italian companies are simultaneously improving their own opportunities in urban centres where they operate. He further adds- "As investment into India's growth continues, Italian companies will view India as a strategic manufacturing hub – providing competitive rates and direct access to growing markets."
Motovario catalyse Italian Innovations in India
When the company, Motovario ventured in India and the customers used its products, people formed an opinion that Italian gearboxes are best in quality. Since then, the Italian gearboxes are the preferred gearboxes in the market, because of the inception of producing an only quality product.
Motovario's production system has been quality-certified under standard UNI EN ISO 9001:2008 – international recognition of the company's quality system as a whole. Procedures are underway to obtain the OHSAS (Occupational Health and Safety Assessment Series) 18001:2007 certification, which specifies the requirements of the management system controlling safety and health in the workplace.
To know more about the Motovario's contribution in the Indian market and its future plans, write to Partha Pratim Sen at parthapratim.sen@motovario-group.in or visit www.motovario.com